What Are The Best Types Of Landscape Lighting?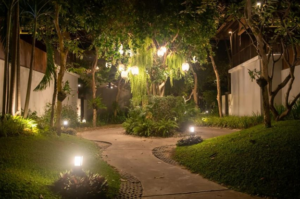 Landscape lighting is a great way to show off your yard and add some extra security to your home. It can create a lovely ambiance for entertaining guests or simply relax after a long day. Landscape lights are also used to highlight specific features in your outdoor space, like a fountain, a tree, or a beautiful sculpture. These lights are available in a variety of options like solar-powered, LED, and halogen. In short, there are plenty of good reasons to add some landscape lighting to your home.
7 Best Types of Outdoor Landscape Lighting
Let's look at a few best types of landscape lights so you can find the one that suits your requirements the best!
1.   Spotlights
Spotlights are landscape lighting that you can use to accentuate specific features in your landscaping. Spotlight is a catch-all word for lights that only point in one direction. It's a broad phrase since spotlights transform into a certain sort of light when employed in a specific way. For example, pointing a spotlight upwards towards a wall transforms it into an up light that generates a wall grazing effect.
The brightness and coverage area of spotlights can vary. They frequently illuminate sculptures, plants, buildings, patios, and anything else that can be pointed at. You can find spotlights in various sizes, shapes, and colors.
2.   Flood Lighting
Flood lights are an excellent option for landscape lighting as they are most effective when it comes to illuminating wide areas. Flood lights are available in various sizes, shapes, and wattages. They can be used to accentuate your landscaping features or to provide general lighting for your landscape. They are high-brightness spotlights with a wide coverage range. From above, they frequently brighten driveways and patios.
3.   Up/Down Lights
With a wide range of applications, these spotlights are among the finest in terms of design. These lights can bring statues to life, create patterns on walls, and enhance the appearance of your yard.
4.   Step Lighting
Everything is in the name. They are used to illuminate steps and other features in your landscaping as well. Step lights can be installed on the walls next to the stairs or the front, vertical face. Step lights are available in a variety of sizes, shapes, and colors.
5.   Garden Lighting
Garden lights are perfect to light up those beautiful flower beds, vegetation, and your gorgeous green lawn. You could choose from solar-powered garden lights, LED garden lights, floodlights, and string lights to accentuate your garden features. Garden lights are available in a variety of sizes, shapes, and colors.
6.   String Lights 
String lights are the classic choice for landscape lighting. Perfect for stringing between trees and across hardscapes to properly appreciate them. They are easy to install and can be used to create a variety of looks, from a romantic ambiance to a fun and festive atmosphere.
7.   Accent Lights 
Accent lights are used to create a certain mood or ambiance in your outdoor space. They are perfect to use around a pool or patio area.
Now that you know all the best types of landscape lighting, you must be wondering which ones to pick for illuminating your landscape features. Well, you need not worry because Evans Landscape Lighting can help you pick the best ones from a wide variety of options. Our professional electrician services will also assist you through perfectly decorating your landscapes!