Does Landscape Lighting Add Value To My Home?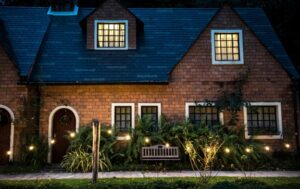 Landscape lighting, as the name suggests, is the strategic placement and installation of outdoor house lights to illuminate your public landscapes or gardens. This method of lighting helps boost the aesthetic appeal of your outdoor space and puts the spotlight on your area's best features. But like all additional work on your property, this comes at a cost.
As a homeowner, you have to consider if landscape lighting is worth the investment or, more appropriately, if it can help increase your home's value.
Does Landscape Lighting Increase Your Home's Value?
Yes! Landscape lighting does help increase your home's resale value. That's not all; it helps to beautify and accentuate your home's beauty. It further adds to curb appeal, serenity, and even security. Anyone trespassing on your property can easily be spotted under these lights, which illuminate in the dark.
In short, landscape lighting projects do take time and money. But in return, they can have a massive impact on the final sale value of your home.
By adding visual appeal to your home lighting setup, they help to create a more inviting look. This reality is starker if you have your potential buyers visit the property at night when the lights can burn in their full glory.
Moreover, as mentioned earlier, landscape lights also helps make your home safer. Intruders do not want to risk crossing your property grounds or gardens since the dark can no longer cover their shadows.
You must also consider the exclusivity landscape lighting provides. If your home is one of the few in the area with landscape lighting, it will surely garner more buyers.
How Much Value Increase Can You Expect?
Now, we move on to a more critical question. How much of a value increase can you expect with landscape lighting? This, of course, depends on the actual work you have done, the degree of lighting you have added, and the quality of the work. Many put the estimated increase in home value between 15% to 20%.
Things to Consider When Investing in Landscape Lighting
When investing in landscape lighting, one thing to consider is planning out how you want your project to proceed. Of course, like most investments, the more you put in, the more you can expect in return. But this does not mean you should randomly light up sections of your garden and call it a day.
You should study the purpose of your lighting and how it should enrich your surroundings and improve visibility.
You should further study the types of fixtures you can add, their size, and their proportion to the remainder of your garden.
You should also look for light colors and intensity; different intensities can set the mood differently.
Finally, consider your costs for running outdoor lighting. Investing in solar-powered lights is the best option since they only demand a one-time cost.
Who to Hire For Landscape Lighting Services?
Now that you understand the many ways landscape lighting can boost your home value, you should start looking for a landscape lighting service to hire.
If you want reliable results, contact Evans Electric & Outdoor Lighting for professional electrician services. We are one of the leading landscape lighting companies in Southport, Oak Island, St James and Boiling Spring Lakes. We are the trusted name when it comes to commercial and residential outdoor landscape lighting solutions.